Aug 12th, 2021 at 02:19
Fashion
Jacksonville
183 views
Reference: 81
$32.38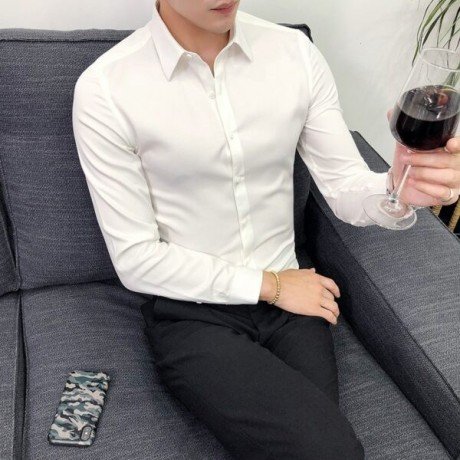 ---
Description
WE'VE GOT THE SOCIAL SOLID SHIRT YOU NEED FOR 40% OFF
That's right, savings for you — right here. At this store, we've reduced prices on our Social Solid Shirt, giving you more push to buy. Shop our selection of Men Fashion items, now for just $32.38!
And if you don't love it, don't sweat it. We have you covered with our commitment to 100% satisfaction, backed by our easy return policy.
This offer (and inventory) won't last forever, though. Buy today!
SIZE DETAILS:
NOTE:
1. Please strictly follow the size chart to select the size. Do not select directly according to your habits.
2. If you are in doubt about two sizes, we recommend that you choose the largest size.
3. Still not sure about size? We'd love to advise based on your measurements.
4. The size may have 2-3cm differs due to manual measurement. Please note when you measure.
HOW TO MEASURE:
To choose the correct size for you to measure your body as follows
DETAILS ON SOCIAL SOLID SHIRT
Material: Spandex
Collar: Turn-down collar
Closure Type: Single breasted
Gender: Men
Fabric Type: Broadcloth
If you're looking for high quality products at a low price, you're more than welcome to ADD TO CART this item right now to receive it as soon as possible! Because you'll hardly find another offer like this!
PRODUCT QUESTIONS & ANSWERS
You do maintain all the manufacturing standards, right?
Our store pays particular attention to the quality of the distributed products and their compliance with the manufacturing standards. So, you have no reason to worry about the Social Solid Shirt.
What is it made out of?
We manufacture all of our products, including the Social Solid Shirt, by using the best available materials since we want to offer only the highest quality.
I'm not sure the product is OK because its price is very low. Should I?
We work directly with the suppliers. Thus, we are able to cut down the expenses on logistics.
If I buy your Social Formal Shirt, do I also have to pay taxes?
You can see the final price on the checkout page. Therefore, if it includes some taxes, it will be shown there.
What's the best thing about your Social Solid Shirt from the previous buyers' perspective?
Most of our customers were happy with their purchase. Furthermore, they mentioned impressive quality and affordability as the product's most valued benefits.
Is it OK if I write a review on the Formal Business Shirt I bought?
We always welcome your initiative! So if you have anything to say about your new Social Solid Shirt, feel free to write a review.
ORDERING & STORE POLICIES
Is it possible to add several items to cart?
The number of products you can purchase is unlimited.
I'm worried about my package. What if it breaks?
We do our best to ensure the secure and trouble-free delivery. That's why we use tried-and-tested methods to make sure that you'll receive your purchase and stay pleased.
How do I make a purchase?
Choose the color and size you prefer, specify the number of units, and click on the ADD TO CART button. Then continue to the checkout page: choose the payment method you prefer, put your email, address and other data on the form and confirm your order. After the payment, you will receive a confirmation email and your product will be packed and sent to you.
I think I've messed up something in my order. How can I sort it out?
Feel free to get in touch with our Support team members and describe the situation to them. After that, they will help you with your problem and change or cancel your order.
I am not sure that I should buy it from you. Why to choose your store?
We pay close attention to the selection of the best materials, technologies, and manufacturers. This is why you can buy from us with confidence!
Are you selling these legally?
There is no reason for you to worry about the legal side of our operation because we have the permission to sell all the products listed in our store.